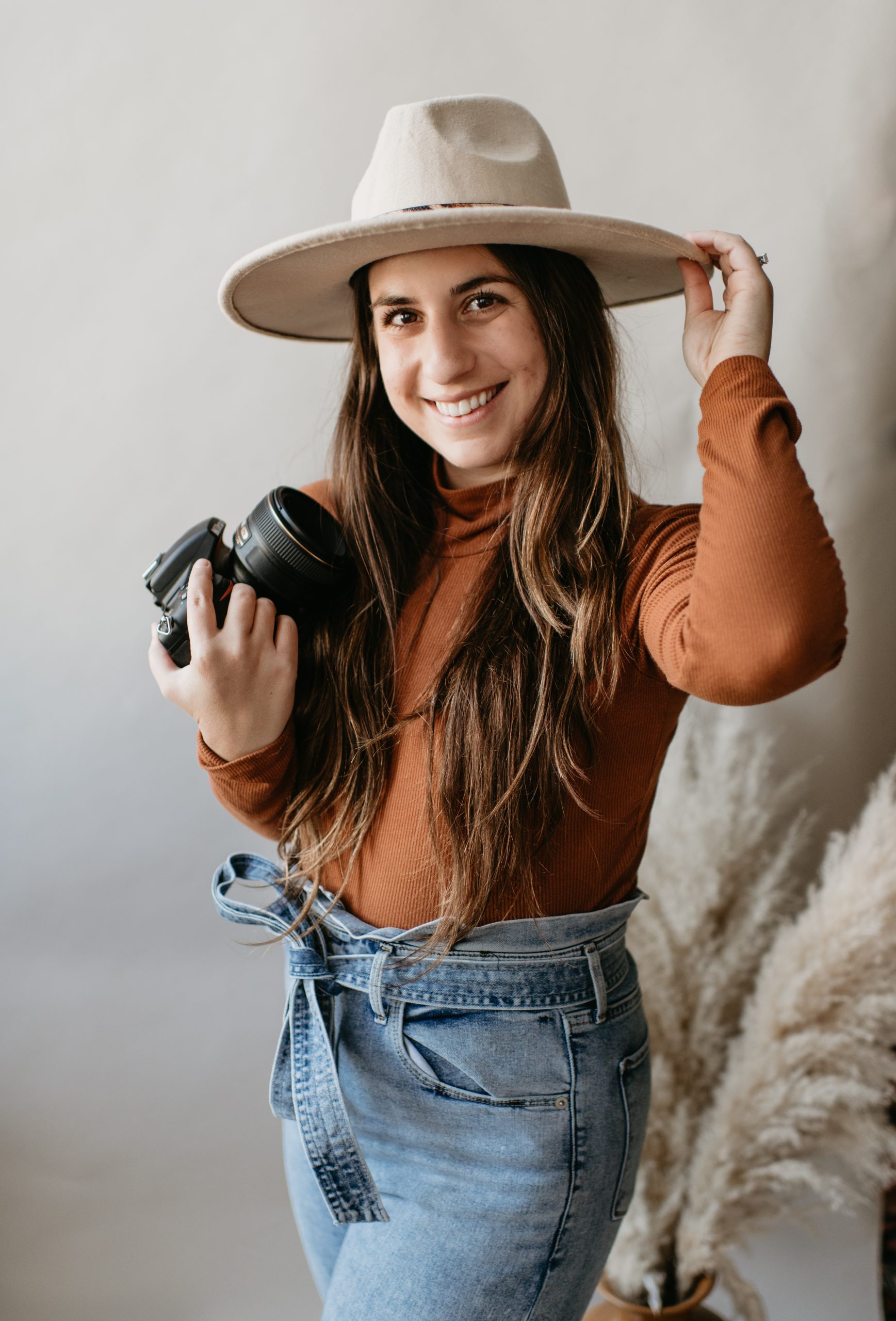 We're gonna be pretty good friends by the end of this, so may as well get to know me a bit. I'll tell you all the embarrassing stories about me and my (now) husband! - like that one time I farted in his car on our FIRST DATE, and show you pics of my rescue dog, Kona, on the daily. Greek food is my favorite and I'll always be lighting up the dance floor when YEAH! comes on.
I started photography after I had a holiday session with Nick & Kona (see, already starting!) I thought to myself, "how cool is it that someone's job is to capture humans in love and give them lasting memories?!"
Now that someone is me, and I get to give the gift of the most beautiful wedding photos to other couples.
10 Hours of Wedding Day Coverage

Engagement Session

Second Shooter

Photography Timeline Planning

SMP Wedding Planning Guide

Online Gallery w/600+ Photos

Printing Rights
8 Hours of Wedding Day Coverage

Engagement Session

Photography Timeline Planning

SMP Wedding Planning Guide

Online Gallery w/500+ Photos

Printing Rights
rehearsal dinner coverage
$600 (discounted from $750 for wedding clients)
additional travel fee for weddings further than 60 miles of Wareham, MA
capturing your unique day, your own way
working with me & what to expect
First of all, we have a DANG good time together!!
My couples are kind humans, not afraid to goof around and laugh like goobers, are madly in love with each other, and appreciate having their memories taken in an artistic, timeless, and natural way. People that want a day a little bit untraditional, and create a wedding that truly reflects them as a couple.
My photos are edited in a way that will never go out of style. I love to stay true to color, keeping it natural, vibrant, warm, and earthy. Your photos will reflect the environment, your wedding day, and your relationship in the most beautiful way imaginable.
Good people
Good laughs
Good memories
It's really that simple
LET'S GET ON THE SAME PAGE
I'm sure you've got some questions and want to chat more about your day! We'll schedule a call/facetime to run through all the deets and have a nice little virtual hang out. We'll pick your perfect package - OR if you want to custom make a package, let me know and I will make it work!
Sweet! I'll send along a contract + invoice for payment .
An easy $1,000 non-refundable retainer is required to secure your date.
CELEBRATE!!! I'll send over my welcome handbook to help you with everything related to your wedding, you can ask me whatever want, share with me your wedding inspo, and get ready for FUN!
DO YOU TRAVEL? WHAT ARE YOUR BUCKETLIST LOCATIONS?
DO WE NEED AN ENGAGEMENT SESSION?
This is up to you, but I totally recommend one for a few reasons! First, my style of photography works best when we've gotten to know each other. An engagement sesh is the perfect time for us to hang out & spend time together before your day! It's also a great way to get comfortable in front of the camera, and practice makes perfect. It's totally natural to feel a little bit nervous/awkward when you're not used to having your photo taken, but your engagement session will make you two pros by the time the wedding rolls around!
Sure do!! Passport ready in hand, bags are packed, let's go! I have a list of discounted destinations around the world - but heck even some of my couples have decided to adventure out of state for their engagement session! Anywhere your love story brings you, I'm honored to take part. Here are a few discounted locations to get you dreaming!
- Private Villa in Turks & Caicos, Italy, Greece, Iceland, Portugal, Croatia, Hawaii,
CAN WE PURCHASE AN ALBUM?
DO WE NEED A SECOND SHOOTER?
For sure!! custom albums are an amazing addition to your wedding package. Just let me know, and I'll send you more info about the process and how to purchase. I hand-design each album for you to tell the story of your day. There are discounts with the more albums you purchase, too.
While I'm confident in my ability to shoot all of my weddings solo, I recommend second photographers for larger weddings, or when couples are getting ready separately and the timeline doesn't allow me to be with you both at the same time. We can chat more about this option on a quick consultation call.
WHEN WILL WE RECEIVE OUR PHOTOS?
ANY ADVICE FOR GETTING THE BEST PHOTOS OUT OF MY DAY?
I know you are SO excited about getting your photos back!! I always like to send over a sneak peek gallery within 3 days of your wedding. You can expect your full gallery back on average 8-10 weeks.
Yes! In fact, I have an entire Wedding Handbook that I'll send you (exclusive to SMP couples only!) full of tips to set yourself up for the best photos ever. I'll also help you create your entire photo timeline to make sure the day runs seamlessly and we have time for all the photos you'll ever need!