Wedding budgets are the most fun you can EVER have while planning a wedding, RIIIIIGHT?! I can imagine if you're reading this you have probably had a small wedding budget freakout by now. It's normal, it's okkkkk and things will be ok! *also sending you a virtual hug right now* I've received a lot of questions from my clients about budgets, intimate weddings, and basically what to expect so I thought I'd make a blog post that breaks down what our day cost us to give you a general idea of what you can get for this budget, and a BONUS, tips to cut your wedding costs at the end!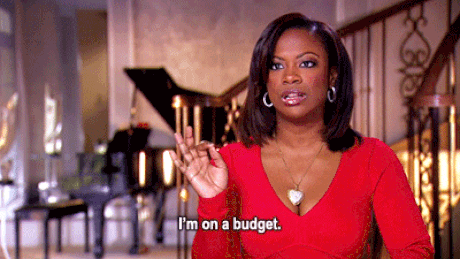 Before you dive in, I do want to make it VERY clear and make sure you understand that everyone has different spending priorities for their wedding. While our wedding might be a fraction of the cost some can afford, it could also be someone else's dream wedding. Please be kind and patient when talking about wedding budgets with your friends and loved ones, and never assume someone has or does not have help. I'm just one person sharing our experience and it varies among the woooorld. So take this all with a grain of salt.
Basically my goal is to help you find a starting point when planning a backyard intimate wedding. Now, I will preface by saying we were lucky enough to receive a few discounts from amazing vendors (off-season perks + the year of covid, baby!) and will forever be grateful. But – keep in mind that this blog post is not meant to set unrealistic expectations. This is just what our day looked like based on month, size, and location.
Here's how much a 15-person wedding cost
Guest count: 15 (including us)
Overall wedding cost: $17,396
Cost per person (food, accommodations, alcohol, rentals, coordinator): $598.33
Soooo here's the breakdown of what everything cost for us:
4 Day House Rental: $3,975 Thurs-Sun rental
Pizza Truck Catering: $939 We got 4 different pizzas, a salad, and cannolis for dessert
Apps: $385 30 pieces of 4 different apps
Bartender: $175/7 hours
Server: $125/4 hours
Alcohol: $300
Photographer: $4,750 for 6 hours of coverage
Florals: $1,252 for a bouquet, arbor installations, boutonniere, and bud vases on the tables
Coordinator: $2,250 includes day-before rehearsal, 8 hours day-of with 2 coordinators
Rentals: $826 for custom arbor, 3 tables, 3 benches, and 8 chairs, plates, and silverware
Hair & Makeup: $295
Dress: $1,200
Suit: $190
Alterations: $280
Patio heater rentals: $280 (we saved some cost on delivery by picking these up!)
Additional decor: ~$300-$500 for signage, bistro lights, DIY rigs for said bistro lights, easels, random things)
Sooooo that's all I can really remember from our spreadsheet, it might have been slightly more with a few additional last-minute things, but it's a great start. In my professional opinion, I'd budget ~$1,000 per head for an intimate or destination wedding (obviously doesn't include your dress, hair and makeup, etc.) just the actual vendors that your guests will first hand experience.
Top Tips for Cutting Your Wedding Budget
Cut your guest list – simple. I don't need to explain this to you.
Weekday wedding – trust me, Thursday weddings are JUST as lit as Saturdays. Especially with smaller weddings, it's easier to get everyone on board!
Off-season – we lucked out with a beautiful 60 degree late-November day. I can't guarantee that'll happen for everyone, but you never know!
Opt for simple alcohol – basic beer and wine, and maybe some low tier liquors if you want anything mixed. But, having a wedding at a private residence is great because you can serve your own alcohol (just make sure you have proper licenses/servers/etc.) Also, here's some extra advice to cut your alcohol costs from one of my favorite wedding planners, Kay Northrup.
Food trucks – Food trucks are GREAT, buuuuuut, only when you have a smaller guest list. I'd say under 50 guests and a food truck is the way to go. Otherwise, you'll need 2 and you'll have a huge minimum to spend.
Offer to pickup any rentals yourself. Sometimes if you have a lotttt of items or large pieces, it's easier to just get things delivered. But I picked up a few items that saved several $100s worth of delivery fees from local rental places!