Looking for a unique Cape Cod wedding venue but tired of seeing the same old same old boring spots? I feel ya. When I was planning our wedding on the Cape, I was getting so annoyed with the plain vanilla venues that required extreme minimums and just had no character or charm! So, I decided to do some digging and find a few hidden gems to share. Here are some amazing nontraditional Cape Cod wedding venues that will have you and your guests gushing!! *disclaimer these images are not mine*
Watchmere
Where: Martha's Vineyard, MA
Cost: 2 night minimum: $8,000
Overnight Guests: 7
Event Guests: Up to 35
Bedrooms: 4
Baths: 3.5
Pets: Considered upon request
Okay so you'll have to head on over to Martha's Vineyard for this hidden gem – BUT it is totally worth it. Watchmere is perfect for an intimate wedding, and might I add that 35 guests is an ideal wedding guest list for your closest VIP friends & family! The rest of your guests can stay at some local bed & breakfasts, airbnbs, or any of the great accommodations the Vineyard has to offer. Spend your entire weekend tucked away in this beautiful private estate, host your rehearsal dinner & farewell brunch onsite too!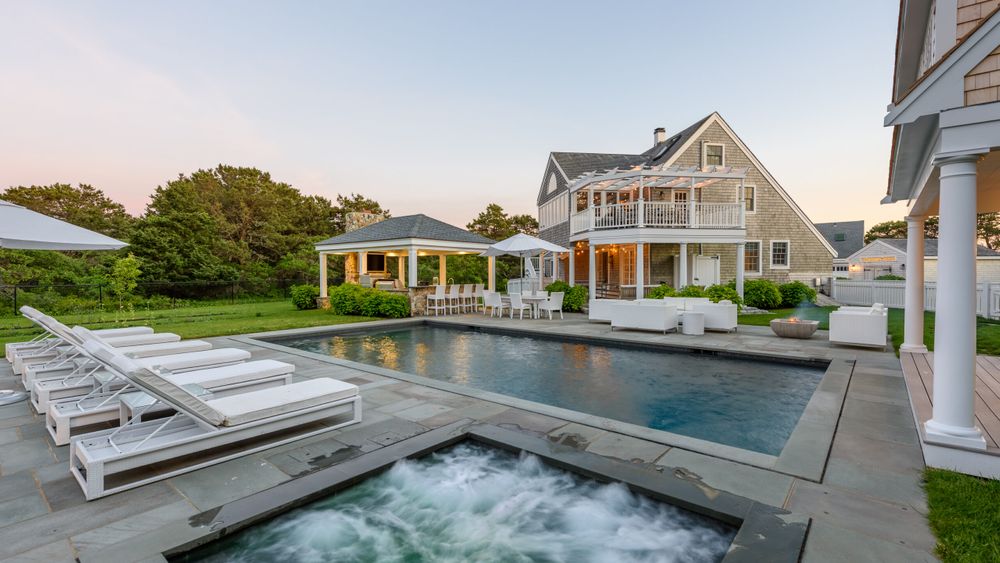 Winslow Estate
Where: Orleans, MA
Cost: Summer: Weekly Rentals between $15,000-$23,000
Offseason: 2 Night Minimum $2,000-$2,500/night
Overnight Guests: 19
Event Guests: Up to 175 (Tented)
Bedrooms: 9
Baths: 5.5
Pets: No pets
Winslow Estate will provide you with a wedding week experience. A private waterfront estate with a beach, pool, and so much more! Winslow Estate has been voted by Cape Cod Life Magazine as one of the top places to rent on the Cape. The Mediterranean aesthetic of this rental really makes your style stand out among the typical Cape rental.
Pelham House Resort
Where: Dennis Port, MA
Overnight Accommodations: 33 Guest Rooms
Event Guests: Up to 250
Pets: N/a
At the Pelham House Resort, host an intimate affair or your big blowout to celebrate your wedding day! It's modern and sleek thanks to recent renovations, but still gives a Cape feel being right on the water. A timeless classic. The best part is, you can stay onsite and there are plenty of rental rooms to choose from depending on your wedding style and size! You can even put a tent out on the lawn – woo!
Bourne Farm
Cost: $5,000
Where: Falmouth, MA
Overnight Guests:
Event Guests:
Pets: Yes
A true venue to create your own unique setting? Check. Bourne Farm is home to many tented weddings, and can be as big or small as you want. There are great local vendors that work here regularly, so you are in good hands. Go rustic, luxury, coastal, etc. The world is your oyster here! Bourne Farm is also a 5 minute drive from the ocean, so if you still want some beach photos you can easily get over and there and back!
Autocamp Cape Cod
Where: Falmouth, MA
Overnight Accommodations: 33 Guest Rooms
Event Guests: Up to 215
Pets: Pets allowed
A forever favorite, Autocamp Cape Cod gives your guests a glamping experience, unlike anything else that the Cape has to offer. I've shot elopements here (check out this gorgeous shoot), and it's always a blast. I can only imagine how epic and unique a wedding here will be! You can rent out the Clubhouse space for a more intimate gathering or your rehearsal dinner, and if you need more space, rent out the lawn and throw a tent on there with some farmhouse tables and tons of bistro lights! *chefs kiss* Autocamp is the perfect unique Cape Cod wedding venue.
Underwood Estate
Where: Chatham, MA
Cost: $9,000-$9,500 for a week rental
Overnight Guests: 8
Event Guests: Up to 175 (Tented)
Underwood Estate has limited availability to host only 6 weddings in the months of May, June, September and October, so don't hesitate to book yours here! This backyard wedding style rental allows you to bring in all your own vendors and create your dream day. You can put a tent out on the back lawn overlooking the harbor, and have the entire week to host all of your events.
Wing's Neck Lighthouse
Where: Pocasset, MA
Cost:
Overnight Guests: 8
Event Guests: 40
Bedrooms: 3.5
Baths: 1.5
Pets: No pets
Who says no to a lighthouse wedding?! This is such a fun spot for a smaller wedding right on the water! A convenient location on the upper Cape, Wing's Neck Lighthouse is perfect for a cute, cozy, and coastal intimate affair with your closest friends and family! Picture a ceremony overlooking the water, and a tiny sailcloth tent to host a clambake – how fun!
Overbrook House
Where: Bourne, MA
Cost: $7,500-$8,500 Thurs-Tues rental
Overnight Guests: 20 with the option of two additional house rentals
Event Guests: Up to 140 (tented) & up to 70 in the barn
Bedrooms: 8
Pets:
Located conveniently just over the bridge, Overbrook House is a super cute wedding venue to host all of your weekend events! The house itself is big enough for your family and/or wedding party, and they even offer two separate houses for rent nearby if your crew is big enough. The rental is great for backyard style weddings, where you can have a ceremony in the back lawn, a tented dinner reception, and DJ or band in the barn to party the night away.
Dune at Wychmere
Where: Harwich Port, MA
Overnight Accommodations: 14 in the Cottage & plenty of guest rooms
Event Guests: Up to 240
Pets: N/a
Brand spankin' new this year, Dune at Wychmere is probably the most modern venue on Cape Cod to host a grand wedding. And if you're looking for something a little more low-key, you can go out on the lawn for a cute cocktail-style party. The most wow-worthy spot at this venue has to be the rooftop in my opinion. So many options here!
So there you have it! Hope you enjoyed this list and it helps you find a unique Cape Cod wedding venue for your special day. If you're in need of a wedding photographer for any of these places (or others too!), send over an inquiry!