You've probably landed here because you've been wondering something recently: what does "elopement" mean?
Maybe you got engaged recently or are planning to soon. You might not be sure what an "elopement" technically is, and how to know if it's right for you.
So I'm here to walk you through the most common questions I get asked about elopements to help you determine whether an elopement is right for you! (Spoiler alert: elopements are honestly an amazing option for every couple – so this might be your sign that you should elope!)
First off, what does "elopement" mean?
The definition of "elopement" has changed so much over time. Your parents or grandparents might think of eloping as simply running away together before your wedding date and getting married in secret. And hey, it can still mean that if that's what you want to do!
But now, the wedding industry has hugely shifted what "eloping" means. There's a range of what people take "elopement" to mean – here are a few examples:
Get married by yourselves – just you, your partner, and your officiant (plus your photographer/videographer)
Have an intimate celebration with just you and your 5-15 closest loved ones
Tie the knot on your own, then celebrate with a bigger "wedding"/party later on
Have a quick celebration in a chapel or a courthouse
Go on an adventure into the mountains, on the beach, or somewhere in nature
Well, what's the "right" way to elope?
Well. . . there really isn't a right way! (I know, I know – it's not a simple yes or no answer – sorry!)
The amazing thing about eloping? The options you've got are endless. Are you and your partner adventurous? Cool, run off to the Colorado mountains. Homebodies? Great, rent an Airbnb and get married cozied up in the living room. Ocean lovers? Awesome, get your feet in the sand in California. Honestly, wherever you end up, most of the time your favorite part of your day will be the fact that you two can just exist together in the present!
What if we're scared of telling our friends/family we're eloping?
Don't worry – you're not alone! Almost every one of my couples who has eloped has expressed this at some point during planning. Humans naturally crave personal connection – that's what makes weddings so wonderful, right? But people's opinions and wants can get incredibly overwhelming to the point you lose focus on what you actually want.
You find yourself planning your song list based on what others will dance to, make a donut wall because that's what Pinterest tells you to even though you want cannolis, etc. When you elope, you can wipe away all the external pressures.
Here's what one of my past couples said on this topic:

"You have to remind yourself that it is your choice, do not make it about other people because it simply isn't! We also did receive lots of love and support after we eloped. When I think back to how our day went, I wouldn't have it any other way." – Nicole & Zack
Can we include guests in our elopement?
Remember how I said above that "elopement" can mean a bunch of different things now?
You sure can!! When you've had a family and friends who have loved and supported your relationship, it's important to show them they matter. Some couples want their elopement to be just the two of them, but let's not forget, you can include guests in your elopement too! Personally, I offer elopement packages with up to 20 guests, but it can vary depending on location/photographer/planner.
If you just want the day to be you two, but still want to include your family/friends during your day, here are some ideas:
Ask a family member be your officiant/witness
Facetime them after you say I Do!
Ask them to write you a letter that you can read together that night
Have them put together a video montage for you to watch
Invite them for a send-off dinner the night before
Invite them for a day-after brunch
Bring along family heirlooms (jewelry, ties, perfume, etc.)
For more details on intimate weddings with a few guests, check out another blog post of mine: The Pros and Cons of a Small, Intimate Wedding!
No matter what you decide, just remember that your besties will always love you!
Got any other advice for us?!
This is still YOUR wedding day, just reimagined. Elopements are meant to be intimate, intentional, and experiential. Whatever it is that makes you feel most alive, do it! Even though your elopement might be scaled back, it's helpful to still plan your budget logistics. And above all else, hire professionals that will make your day completely and utterly magical.
Here's a piece of advice from one of my past couples:
"When planning an event for just the two of you, you don't have to delegate so much money towards a location, dinner, alcohol etc. for all of your guests. This is your chance to really get creative and put your money towards customizing this event in ways you wouldn't necessarily be able to when inviting so many guests (location, outfits, decor, specific photo ops etc.)." -Alexis & Alex
---
Now, let's get some first-hand thoughts from past couples of mine who eloped! Because who better to hear from than couples who have done it before you?
Couple #1
What was your favorite part about eloping/your day?
It's so hard to choose a favorite part of our wedding day but overall we really just loved being able to concentrate on us without any distractions. Moments such as when we exchanged vows felt so intimate and meaningful. There weren't the distractions of making sure we mingle with all of our guests or keep to a detailed schedule. We were really able to just celebrate each other and our relationship. Really embrace everything we've been through together and be joyful about our lives to come.
Couple #2
1. What was your favorite part about eloping/your day?
There were honestly so many favorite parts. I really enjoyed that we chose to get ready together – it was the little things like having him zip up my dress for me and then being able to turn around and see each other… it was like "hey, we are really doing this!!! and you look SOO good!!"

Also, we chose to write our vows together (not really together, but we made a date night out of it the night before, had some wine and wrote them next to each other, only to read them for real the next day). But I think my MOST favorite part was being able to spend that intimate moment with each other when we were both saying our vows – it truly felt like we were the only people in the world at that moment and I felt alllll the feels! It was a moment I will remember and cherish forever.
2. What advice do you have for a future bride/groom that wants to elope?
Always remember it is about the two of you. Zach and I struggled with that a lot in the beginning…worrying so much about what other people would think about our decision to elope and have a private ceremony. We did face some challenges with family members feeling hurt and that was honestly very difficult, but you have to remind yourself that it is your choice, do not make it about other people because it simply isn't!

We also did receive lots of love and support after we eloped. When I think back to how our day went, I wouldn't have it any other way. Now our families are all excited about when we can plan for a reception once things calm down with COVID – the ceremony was for us, the party can be for everyone 🙂

overall, just do not worry – think about what matters most to you on your day. For us, that was exchanging personal vows and documenting the moment with amazing photos (shoutout to Sam!!) and do what feels right.
3. Do you have any regrets about eloping?
Zach and I eloped very early on in the pandemic so unfortunately we were not able to go out to dinner to formally celebrate or leave for our honeymoon the week after like we had planned. But keeping our date was really important to us since it was sentimental.

I wouldn't say I regret that as it gives us a lot more to look forward to for when we can do those things safely. We cannot wait to plan our honeymoon. Eloping, big wedding, small wedding or not… May 14th will always hold a special place in my heart. No regrets!!!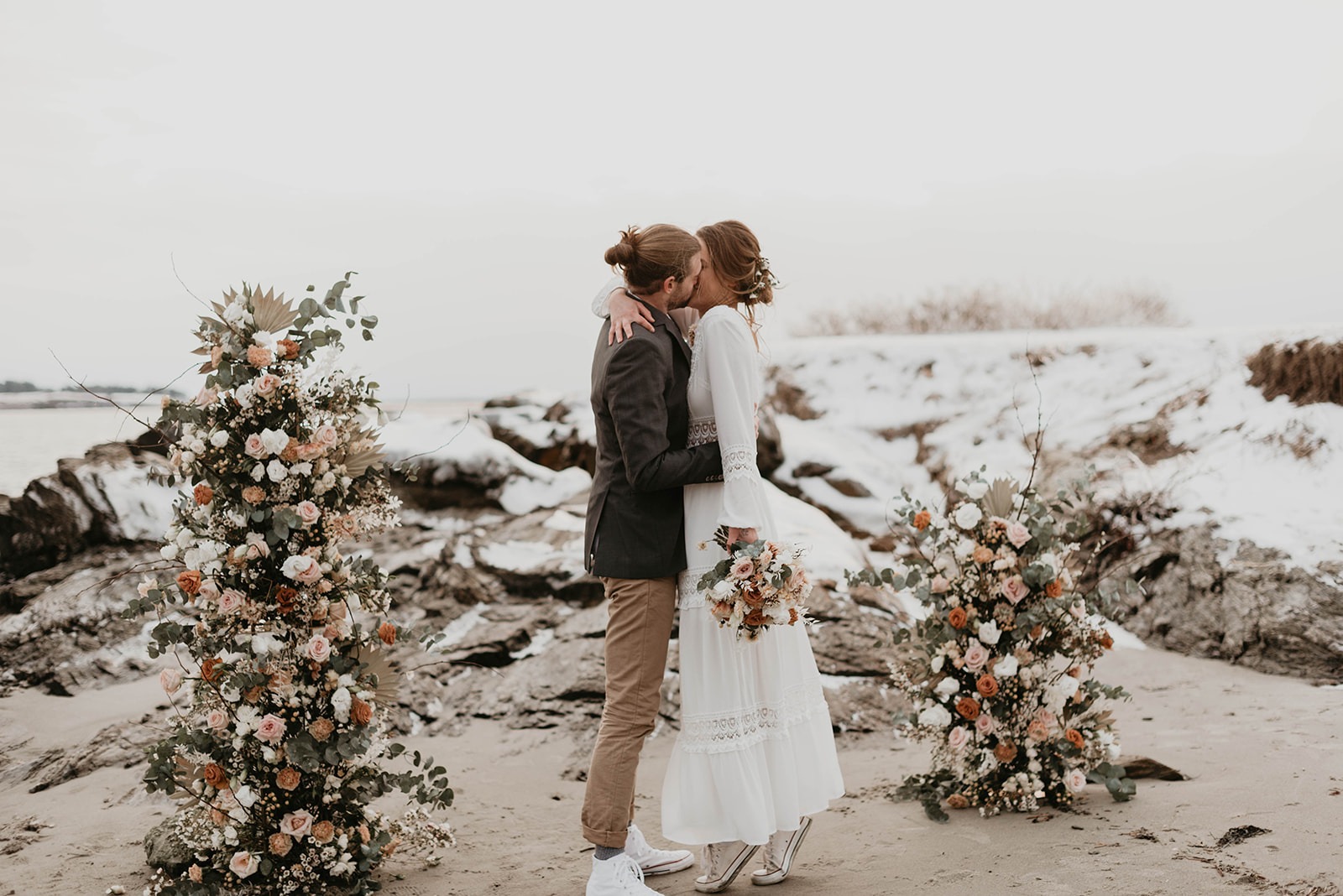 Now if this all sounds amazing to you and you're feeling like it's the right way to go, let me tell you: it probably is. My only hope is that this post inspires you to follow your heart. If you know you want to elope, or are even on the edge of diving in, . If you need a little extra guidance, check out the blog: Your Wedding and Covid: To Reschedule, Downsize, or Elope?
This is your sign to elope and create the most amazing wedding day based on what's most important to you and your partner. Trust me – you'll be so happy you did!