The Best Aruba Honeymoon Itinerary
Looking for the perfect itinerary for your Aruba honeymoon? Welcome to Aruba, off the beaten path. Where you won't be staying in the low/high top hotels and you'll have freedom to travel around the island as you wish. If you want a location that has the perfect amount of relaxation & adventure, Aruba is the place to be.
How to Travel to Aruba During COVID
If you're traveling to Aruba from the US, here's what you need to do right now:
Fill out an

ED card online

Upload a negative PCR Covid-19 test within 72 hours. They are extremely detailed with which tests are accepted, so double check you're getting the correct ones on the website linked below.

You also have the option to test upon arrival in Aruba and quarantine up to 24 hours until you receive results, but typically within ~8 hours.
If traveling via JetBlue, they now offer the

Vault

at-home testing for convenience and ease of use. I would strongly suggest this, as it's secure, affordable, and easy!

Purchase Aruba Visitor's Insurance – this is only $30 and done during the ED application process
You will also need a negative COVID test to return to the US. Luckily they make it simple and more affordable than most US places. Find a

list of testing centers here

– you will want to do this within 3 days of your departure.
Please keep in mind, the most current guidelines can be found directly here. This blog post is updated on March 14, 2021. **Note that your COVID test must be administered within 72 hours of your departure**
Where to Stay in Aruba
The Boardwalk Boutique Hotel is a no brainer for your Aruba honeymoon hotel. Formerly a coconut plantation, this hidden tropical oasis is the perfect place for romance, privacy, and relaxation. You can choose from a range of beautifully styled casitas (I recommend the deluxe coco casita with outdoor shower!) from all around the grounds, and immediately feel like you have your own little home in the midst of Aruba. It's just across the street from the beach, so a quick 3 minute walk will get you to your private slice of the beach with palapas you can reserve each day. You won't need to worry about rushing down to the beach at 6am to grab a spot here!
They have 2 incredible pools, a snack shack with service from our favorite, Eduardos, and the friendliest staff around. We recommend having a car here, so you can really get yourself immersed in the local life! And for safety, it's a gated resort so you can be at ease knowing everyone on the property has a key to enter!
Where to Eat in Aruba
Aruba is the place for seafood lovers. The fish and shrimp here are out of this world. Here's a few of our favorite places to put on your Aruba honeymoon itinerary.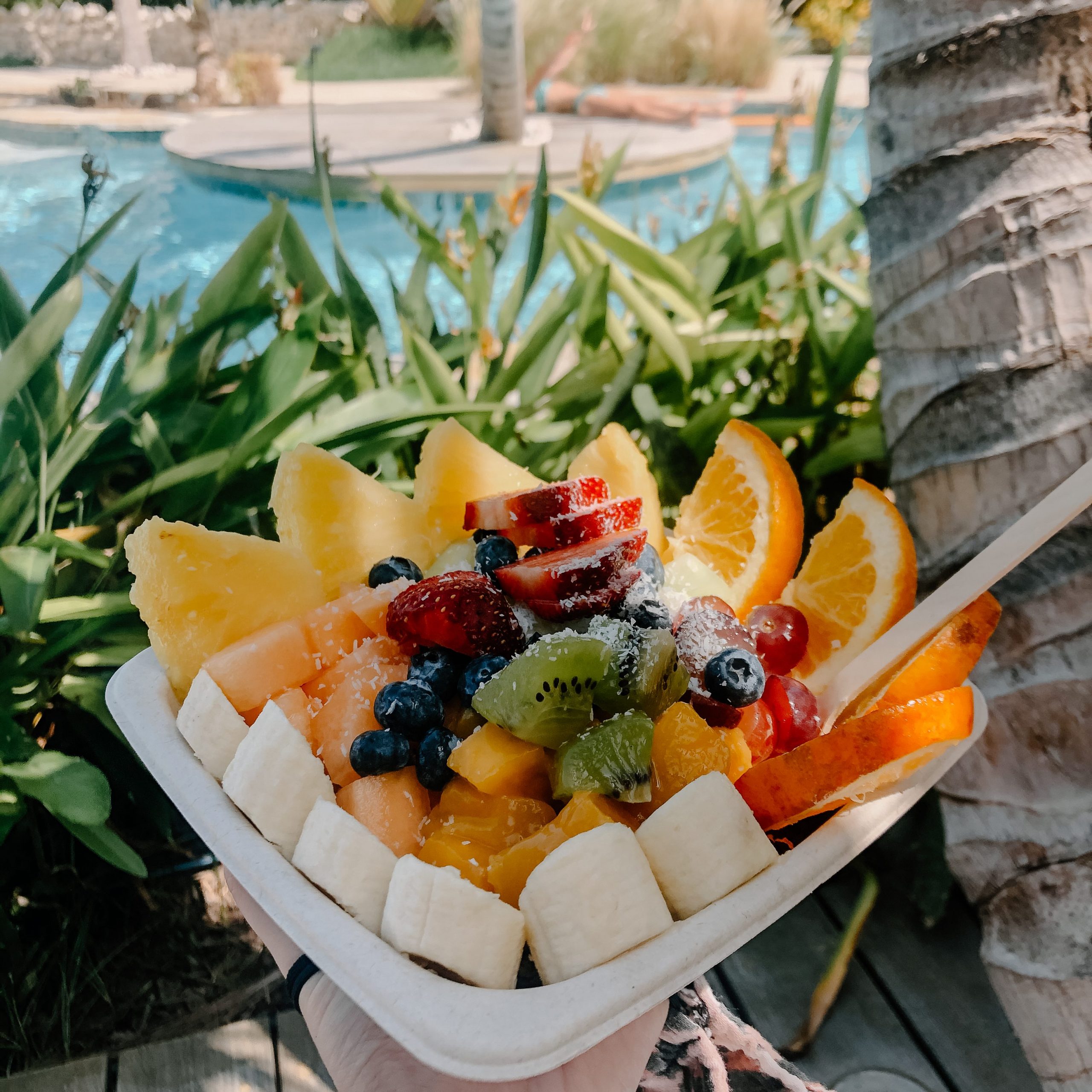 Best Beaches in Aruba
The best part about Aruba beaches is that they're all public! You can drive to any beach and park basically wherever your car fits.
Mangel Halto – A great place for bring a picnic amongst the divi trees, go snorkeling, and then head on over to Zeerover's for dinner
Tres Trapi Steps – Up towards the north side of the island, this is for a bit more of the adventurous couple. You can jump off the cliff into the water, and go out for a swim/snorkel. It might help to wear water shoes here, as it's a little rocky and there's some broken glass along the cliff edge.
Boca Catalina/Arashi Beach – One of our favorite beaches while we were here due to the fewer tourists. While you're at it, take a drive up to the California Lighthouse, and walk the dunes. It's so serene.
Baby Beach – Soft white sand and bright waters on this south side beach.
Boca Prins – You'll find this gorgeous spot in the middle of Arikok National Park. You can't actually swim in this one as the tide is much too strong, but it's beautiful to sit and look out at, listening to the waves crashing up against the cliff side.
Rodger's Beach – For an insta-worthy location, Rodger's Beach has gorgeous stairs that bring you right into the ocean!
Best Excursions in Aruba
Arikok National Park // Fontein Caves // Natural Bridge – $11/day for entry to this incredible park. You'll drive through miles of desert, overlooking the cliffs and ocean. There's hiking trails, caves, beaches, and wildlife. There's really nothing like it!
Snorkeling – Aruba Bob was a great small-group/private tour around Mangel Halto. We saw such amazing fish and you even got a personal water scooter to guide you around! There's a bunch of snorkeling boats that are along the Palm Beach area if that's your thing though!
Natural Pool – Inside of Arikok National Park sits a beautiful natural pool, where you can. It is an extremely adventurous and somewhat grueling trip to get here (pro-tip, you absolutely need a 4×4 or they do not allow you to enter). We took our Jeep Wrangler, and it was ROUGH. I would recommend booking an excursion here either with an ATV tour, horseback, etc. You don't want to risk damaging your car rental while you're here!
Donkey Sanctuary

– This donation-run sanctuary is home to over 160 donkeys. All were found either abused or in serious health conditions and are taken care of by volunteers! Spare a few extra bucks, so you can go around to feed and cuddle with the donkeys. It's wonderful honestly.
Aruba Animal Shelter – If you have some extra downtime on your trip, consider volunteering at the Aruba Animal Shelter. You can come in and socialize with the pups, help wash them, etc. It's truly rewarding to know you're helping these sweet babies find a happy and loving home. If you want to go the extra mile, consider becoming a flight volunteer to transport a kitten or puppy to their new home. There's no expense to you, just cuddles on the plane!
A honeymoon photoshoot! BECAUSE WHY THE HECK NOT!!!! You can

hire me

to literally follow your adventures around for however long you want me to. You can never have too many pictures of yourselves in love, and you'll make all your friends super jealous 😉
And that's a wrap on our Aruba Honeymoon Itinerary!! Have anywhere in Aruba you love? Let me know in the comments!!