Looking through Airbnb's website for the perfect Massachusetts home for your intimate wedding? Lucky for you, I've compiled a list of some of the top Airbnb's in Massachusetts for intimate weddings right here for ya! Some of these rentals are even great large wedding spaces too, so keep on reading & if you need a wedding photographer, you know where to find me 😉
DISCLAIMER: Please make sure that you get permission from the Airbnb you choose, to hold your wedding there. All of the Airbnb's I've listed below either allow events/parties, have an additional fee for weddings, or have reviews on the listing of past couples who have held weddings there. Do nottt host a wedding at an Airbnb without getting permission from the host – you don't want to end up with any fees or issues during your reservation! **another disclaimer: photos are not mine – all are from the listings**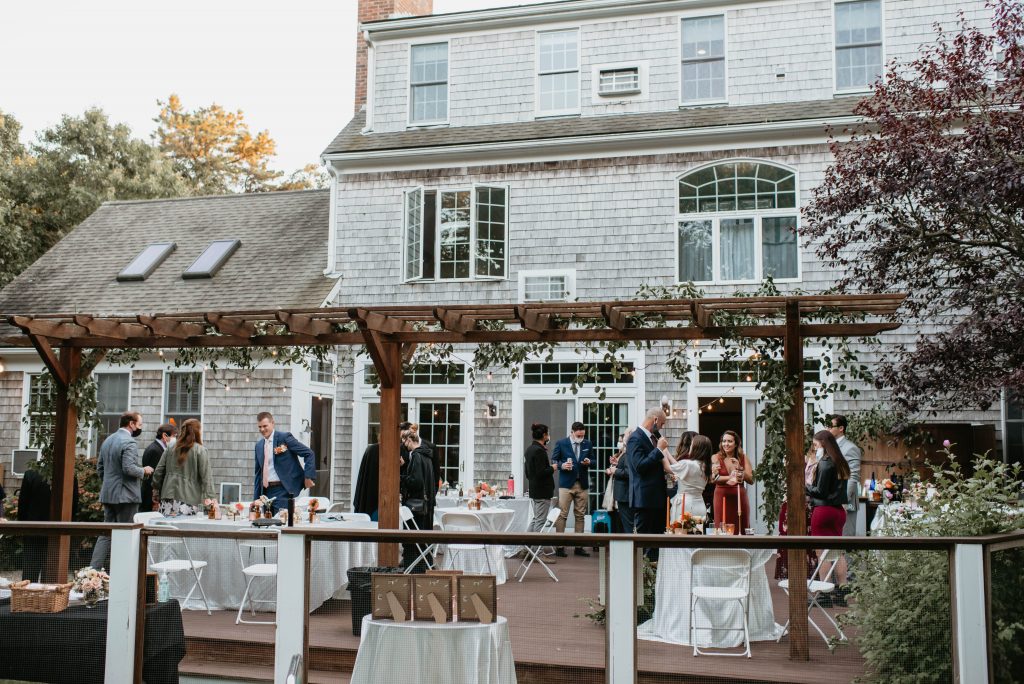 Cost: $1,185/night
Where: Williamstown, MA
Overnight Guests: 25
Event Guests: 99
Bedrooms: 8
Beds: 11
Baths: 6
Pets: Yes, 2 max
Smoking: Yes, outside only
Event fees: 26 – 50 people: $1,500; 51 – 75 people: $2,500; 76 to 100 people: $3,500
One owned by one of Hollywood's most iconic actors, this house is a MUST for events. It also has a barn for an indoor event space, orchard, pond, fire pit, and more! I love the fact this has a perfect indoor dining setup for a smaller wedding – just look at that beautiful natural table and benches! The game room is a fun addition for a nice getting ready space. It's clean, modern, and simply fantastic.
Want me to photograph your wedding at The Brookman Estate?
Cost: $1,930/night
Where: Dedham, MA
Guests: 25
Bedrooms: 10
Beds: 22
Baths: 12
Pets: Yes
Smoking: No
There's nothing in Massachusetts quite like this huge 25,000 sq. foot private estate. It is jaw-drop worthy, and your guests will be seriously impressed with what this place has to offer. It could honestly be a wedding venue – all you need to do is hire an amazing wedding planner to make sure you can relax and enjoy your weekend away with your loved ones!
A ceremony out in the garden would be beautiful, and then setup a sailcloth tent in the back or side lawn – it's setup in the most perfect way that you can enjoy an amazing wedding night together.
Imagine: me & you taking your wedding photos here
Cost: $4,000/night
Where: Nantucket, MA
Guests: 23
Bedrooms: 8
Beds: 14
Baths: 11
Pets: No
Smoking: No
Wowowow the perfect place for a laid-back, small wedding on Nantucket. Host your ceremony on the back lawn/patio, or even go to a local beach! My favorite part about this house is the cute cottage – which is the best spot for the newlyweds to stay together.
This house has a sonos sound system so you can play your awesome Spotify hits throughout the house and outside for everyone – bonus tip, get Spotify premium for no ads and fade between songs for a more natural sound! I'd recommend a private chef to cater your wedding here – the kitchen is no joke and they will be in heaven.
I love Nantucket & would love to take your photos at this gorgeous compound
Cost: $1,550/night
Where: Brimfield, MA
Guests: 16
Bedrooms: 8
Beds: 13
Baths: 4.5
Pets: Yes
Smoking: No
This private resort is STUNNING and is just 60 minutes from Boston! It's got sooo many things to offer:
Swimming pool
An Italian inspired cafe, perfect for a rehearsal dinner or farewell brunch
Private casita
Grill
Tennis
Lawn games
Pond for fishing
Gardens
Cobblestone paths
& more!
It seriously looks like a freaking dreammmm for any couple who wants to celebrate at a beautiful place with their loved ones.
Cost: $857/night
Where: Wareham, MA
Guests: 20
Event Guests: 80
Bedrooms: 6
Beds: 12
Baths: 4
Pets: Yes, 2 max
Smoking: No
Event Fee: $1,500
2.5 acres of private beauty for your wedding with a view over Buzzards Bay!! Wareham is the perfect spot for your wedding – as it's a super easy drive from Boston, and you don't have to go too far down the Cape. This house would be well suited for a stone-oven pizza party (check out Wolf Pizza or Ella's) or clam & lobster bake.
Enjoy some pre-wedding day fun with volleyball outside, swimming, and yard games. Bonus, you even get 2 kayaks, and your own golf cart to explore the Great Neck Wildlife Sanctuary. Aaaaand if you're feeling extra spicy, jump into the water off the dock at the end of the night together! Now that's a photo 😉
Cost: $839/night
Where: Great Barrington, MA
Guests: 12
Bedrooms: 4
Beds: 5
Baths: 4
Pets: Yes
Smoking: No
Okayyyy this French manor house is SO dang charming and perfect for a tiny chic wedding! It features a tennis court, a pool, formal living + dining rooms, and a fireplace. I'm not sure I've ever seen such a fantastic place for an elegant, charming small wedding. White walls, natural light everywhere, colorful decorations, modern-yet-antique-style furniture, and an absolutely GORGEOUS yard. Who needs a wedding venue when you've got this place?!
You know who would take great photos at this chic manor? Me. I would.
Cost: $2,250
Where: North Egremont, MA
Overnight Guests: 20
Bedrooms: 5
Beds: 6
Baths: 7
Pets: No
Smoking: Yes, outside only
Bonus: Early checkin, late checkout
This house in Western MA is a great spot for a woodsy inspired intimate wedding. Definitely the place for your activity-focused & fun families and friends. A big game room with a pool table, a home workout gym, and more! It also has a movie theater, a beautiful fireplace, and outdoor fire pit with a brand new patio. It sits about 5 minutes from local ski resorts too – perfect for an off-season wedding!
Cost: $1,237/night
Where: Marshfield, MA
Guests: 16
Bedrooms: 4
Beds: 9
Baths: 4
Pets: Yes, no cats
Smoking: No
Looking for a great spot for your tented wedding? Look no further! This house is a great place you can stay in, and a short walk right down the street is a huuuuuge field where the neighborhood hosts events. It's so nice the neighbors are okay with events like this, it means it's a tried and true spot!
The house is ideal for your smaller family and a few close friends to stay in together, and host your pre/post smaller wedding events at. They can take care of a lot of the planning too. Plus, It's super cozy, boasts a beautiful fireplace, outdoor pool and patio, kayaks to take out on the water, and a downstairs billiards room where one of you can get ready. There's a lot of great rentals and hotels in the Marshfield area for guests to stay as well.
Cost: $2,500/night
Where: Plymouth, MA
Guests: 16
Bedrooms: 6
Beds: 11
Baths: 7.5
Pets: Yes
Smoking: No
I'm just gonna list out everything this place offers for you below:
Private Beach

, pool, and pond
Large Outdoor Gathering Space & Deck w/ Glass Railing System
6 Oceanview Guest Suites w/ Full Bathrooms
Modern Fitness Room
Giant 2-Bay Fieldstone Fireplace
Home Theater/Screening Room
Tavern
Gaming Arena
Lawn Games
Kayaks & Canoe, and Paddle Boards
Bikes
Golf Clubs
A great place for a backyard wedding with ample room to enjoy your evening. Just keep note, 10pm no loud music!
---
Honorable Mentions
Oceanfront Estate // Wareham, MA
Luxury Nantucket Compound // Nantucket, MA
Martha's Vineyard House // Martha's Vineyard, MA
North Shore Event House // Nahant, MA
Mediterranean Oceanfront Manor // Orleans, MA
Quintessential House // Eastham, MA (ps this is where I got married!)
I hope this post helps you find the perfect place for your intimate wedding!! Still need a wedding photographer?
---
Want even more free elopement + wedding resources? Here are some of my recent faves!
How to Make Your Cape Cod Wedding Unique
How to Elope & Tell Your Families